8 Weed and CBD Sex Positions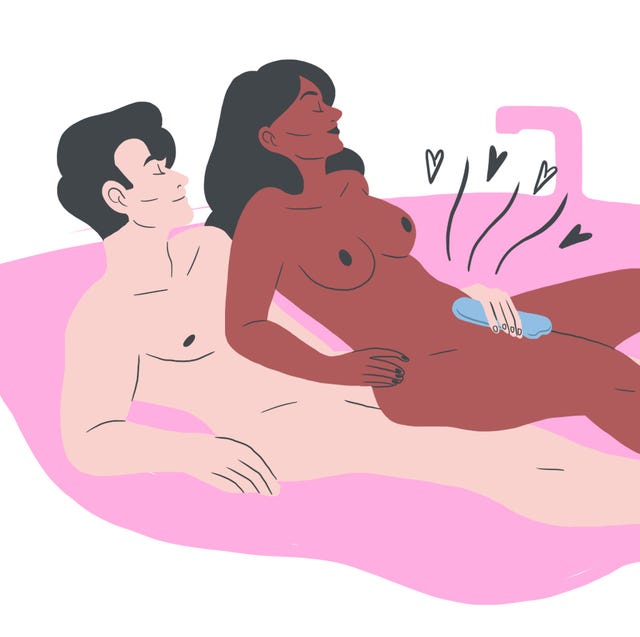 Right now CBD is all up in everything because of its seemingly magic powers to help with everything from acne, anxiety
and inflammation to the general sh*tty situations that life throws you.
But can it also help with sex? Maybe??? Regular weed, the kind with THC, activates the sexual arousal part of the brain. But hemp-derived CBD is different than full-on weed, it won't get you high, but it is more accessible–CBD products are available in all 50 states. (Topicals with THC are only legal in medical and adult-use states like California and Colorado.)
CBD stans say that it increases blood to fun sexual parts like your vagina, clitoris and bum where increased blood flow = deeper arousal. And if you have sexual pain, the anti-inflammatory aspects can help as well. CBD doesn't seem to do much for penises (get on that, men's right activists) but it works just fine on male bums.
While the hard science isn't yet there on all things weed, there's plenty of anecdotal research. In my unscientific personal trial (you are so welcome), the CBD arousal gels seemed to the best at being arousing. And according to another highly unscientific study in which some dedicated Cosmo staffers tried CBD gummies, they chilled the eff out, which is v. helpful if you have a brain that likes to send you unhelpful random thoughts during sex.
There are some for sure things that are inherently good about adding a CBD elixir to sex. One is that it's just something different so it helps you anticipate what's gonna go down. There's also the ritual of applying it, and how you super notice what's going on with your body. (ie Is my junk high?? Answer: no.) Plus a lot of them require at least 15 minutes to take effect—time well spent rubbing it in, kissing, more rubbing it in, etc… Yes, we should all be doing this stuff all the time—taking time, noticing, much rubbing, but CBD oils kind of help enforce it.