9 Best Ring Lights for Makeup Photos and Selfies in 2020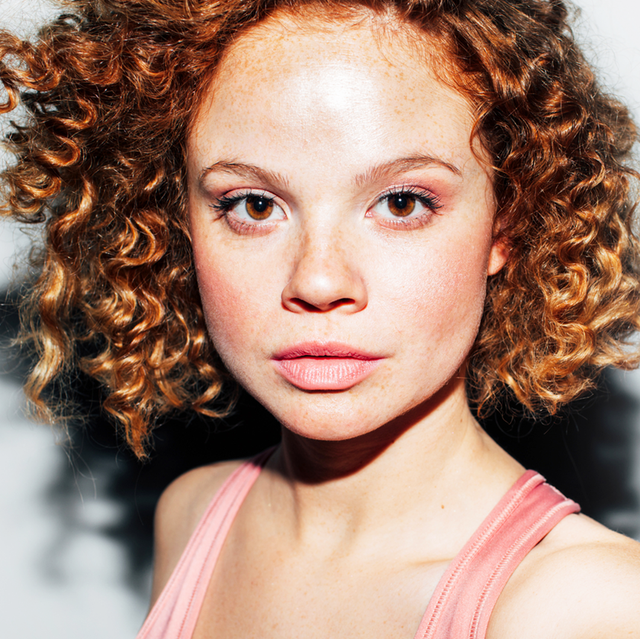 Stocksy
It's no secret that when it comes to taking the perfect photo or mirror selfie, lighting makes all the difference (I mean, god forbid you try to take one selfie under fluorescent lights or in a shadowed bathroom). And with all the FaceTime calls, TikToks, and video conferencing we've been doing lately, I know you want your Zoom meeting makeup to be lookin' as nice as possible. So, I'm going to let you in on a little secret: The one thing you need for the clearest photos and videos with the best filtered lighting is a ring light. Whether you want a tall tripod for dancing around in your room or a desk ring light for makeup, below are nine beauty lights for any occasion that are worth your money (and the time it takes to set them up).
Advertisement – Continue Reading Below
1
The Best Ring Light for the Price
UBeesize 8″ Selfie Ring Light with Tripod Stand & Cell Phone Holder
If you're just starting out your career as a YouTuber and don't want to spend all of your money on a light that's stupid expensive, we don't blame you, and we recommend checking out this affordable ring light instead. With a tripod that features a rotatable phone holder, an 8-inch dimmable light with three lighting modes, and a remote, you get everything you need to for professional-looking photos and videos.
2
The Best Selfie Ring Light With Tripod
Neewer Ring Light Kit:18″/48cm
If you have the money to spend and the space to store a professional ring light, this 18-inch light comes highly recommended on Amazon (it has 4.6 stars and a cool 12k ratings, nbd). It might be easier to make a list of what this ring light doesn't have, because it's got it all: a remote for easy control, a durable, adjustable tripod stand that reaches 59 inches, a perfectly positioned holder for phones and cameras, orange and white color filters, and a bag to carry it all in.
3
The Best Colorful LED Ring Light
Eeieer Ring light, 6" RGB Ring Light with adjustable Tripod Stand
Whether you're looking for an inexpensive light to add colors and effects to your photography or looking for any way to make your boring video conferences a little more exciting, try this mini multicolored 6-inch LED light. For a little over 20 bucks, you get a tripod that reaches 45 inches, a remote, and a separate cell phone stand. Ya can't beat it, really.
4
The Best Ring Light for Phone
LuMee Duo Silver Mirror
There's a reason why Kim Kardashian herself partnered with LuMee (and doubled the company's total sales): This iPhone case is actually awesome. It's lined on the front and back with LED lights that perfectly light your face when you turn it on so you can get a professional-level selfie at all times—even in the actual worst lighting.
5
The Best Hands-Free Ring Light for Zoom Calls
Socialite Flexible Arm Phone Holder – Selfie Ring Light Clamp Mount
If you want your makeup to look extra good for the 'gram or a TikTok dance, a cellphone-stand-meets-selfie-ring hybrid should be your top pick. This genius invention comes with not one but three color LED lights (warm, cold, and mixed), a clamp base, and bendable arms, so you can focus on looking gorgeous—not fumbling with your phone.
6
The Best Travel Ring Light
E.l.f. Cosmetics Glow on the Go Selfie Light
If you're already in love with your current phone case, but still want on-the-go lighting perks, try this clip-on light. The tiny-but-mighty device features three levels of brightness and an impressive 36 bulbs FTW. Finally, you can take selfies 24/7 like a true Kardashian-Jenner—if, uh, that's your dream. 
7
The Best Makeup Light
Mactrem LED Ring Light 6″ with Tripod Stand
Take your glam routine outside of your dark, dank bathroom and into the light with this portable little desktop stand. The tiny 6-inch ring light has dimming capabilities and an extra phone stand, making it easy enough for literally anyone—from an advanced YouTuber to your mom—to apply photo-perfect makeup (and take some equally excellent photos, before, during, and after).
8
The Best Makeup Ring Light Mirror
Koolorbs Makeup 21 Led Vanity Mirror with Lights
Your first step into true beauty blogger territory? Good bathroom lighting and good-quality mirror for seeing all those easy-to-miss spots. Since both of those things are hard to come by, try this ultra-slim LED mirror, which has three magnification modes, dimming options, 180-degree rotation, and a three-fold design so you can fold it up for protection. Bonus: It also has a little catchall tray on the base to store your tweezers, lipstick, or whatever else fits.
9
The Celeb-Favorite Ring Light
Stellar Gemini Photo/Video Kit + Stellar X- LED Diva Ring Light 18 Inch
stellarlightingsystems.com
$369.00
Fact: Kylie Jenner, the photo queen herself, uses this lighting brand for her own selfies—and what other endorsement do you really need? The O.G. ring light has an adjustable stand, a clip to hold your phone in place, and a little half-mirror attachment, so you can see what you're doing while taking your pics. It's pricey, yes, but if you want Photoshopped-looking pics of yourself all day long, you're going to have to spend some cash.
This content is created and maintained by a third party, and imported onto this page to help users provide their email addresses. You may be able to find more information about this and similar content at piano.io
Advertisement – Continue Reading Below