9 Best Tampons for Swimming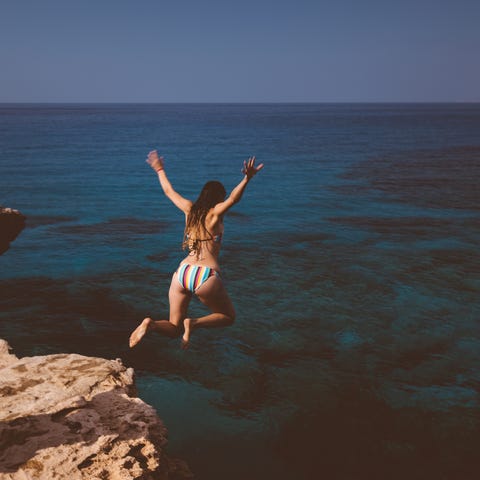 wundervisualsGetty Images
You've cleared the vacay days with your boss, are almost done packing, and have been looking forward to this beach trip for days only to discover that oops, your period is here and will def be joining you for the duration of your trip. As if life wasn't already annoying enough when it comes to menstruation, getting your period when you want to be out and about in the sun and sea all day, can be a legit bummer (thank you cramps, bloating, and period poops.
If you've already managed to get your cramps under control (a feat in and of itself worth celebrating), the last thing you want to worry about is leakage. Thankfully, there are tons of tampons out there that can keep you protected from ruining even your most precious white bikini bottoms. Check these nine editor-approved tampons out for your poolside needs, whenever.
---
For when you're planning far enough in advance that you're ordering pre-beach supplies on Amazon:
Tampax Pure Organic
A bit harder to find than your average Tampax Pearl, these are worth buying online if you tend to stock up on vacay supplies on Amazon pre-trip. The box is made with recycled materials, they have a 90% plant-based applicator, and for specially marked boxes of Tampax Pure Organic, they'll donate a box to a girl in need. If you can't bear to part with your tried-and-true Tampax but want to be a bit more conscious and ethical about it, these are pretty much made for you.
---
For taking up the least amount of precious suitcase space:
OB
If you want your tampons taking up the least amount of space possible in your suitcase, you can't go wrong with OB applicator-free tampons. Seriously, they fit like 40 of these into the smallest little box, so you can def just pop that in as-is, or open it up and stash a few in a makeup bag or other organizer in your suitcase. Also note that these are called "digital" but there's no screen or anything involved, it just means "digital" as in your finger digit. The more you know!
---
For when you're in between needing a box of just regular or just super tampons:
Honey Pot Tampons Duo Pack
If you've got a flow that will have you between super and regular absorbency tampons, getting The Honey Pot Co's Duo Pack that has nine regular and nine super tampons. Regardless of absorbency, each tampon is 100% organic, unscented, and made with a bio-plastic applicator. They're also free of chlorine, pesticides, and fragrances. Throwing one of these combo packs into your suitcase is an easy way to make sure you're covered on vacay, without needing to stress about creating your own Ziploc of half regular, half super tampons.
---
For picking up on the go

Tampax Pearl Tampons
You know 'em, you love 'em, you've definitely tried 'em, and the good news is that they're so popular, they're most likely available in any drugstore you can hop into on your way to the beach or pool.
---
For when you're traveling on an exotic beach vacation
Cora Organic Tampons With Compact Applicator
Fun fact: If you're traveling to certain Asian countries, you might not be able to find tampons very easily. This is something I learned firsthand and something I wish I would've planned for in advance. Next time, I'll be bringing these Cora Organic Tampons with me. They have compact applicators, so they take up less real estate in your luggage and you can pack extra for peace of mind. Calculating the exact number of tampons you'll need ≠ something fun you want to do before a vacation.
---
For swimming laps
Playtex Sport Tampons
These are my personal OG tampons. They are comfortable, never slip out of place, are easy to insert, and are good for any level of activity—whether that means thrashing about in the waves nonstop or taking a warm and sunny beach nap (just don't forget your SPF).
---
For stashing in your beach bag
Lola Compact Plastic Tampons

These little blue tampons from Lola have a lot going for them. For starters, they're made from 100 percent organic cotton, and the plastic applicator is totally BPA-free. And they're super compact, so they won't take up valuable real estate in your beach bag that should be devoted to sunscreen, beach snacks, and cans of rosé.
You can order just one box from Lola's website. Or you can be prepared and set up a personalized subscription for the rest of the summer. Lola's boxes are super customizable—you can decide exactly how many light, regular, super, and super+ tampons you want and how often you want them. Might as well have them shipped straight to the beach.
---
For beaches with no bathroom
U by Kotex Super-Plus Tampons
Going pee in the ocean is one thing. But changing your tampon in the ocean isn't advisable (for hygienic and environmental reasons). If your summer plans include going to one of the beautiful remote beaches where you literally can't spot another sunbather, much less a bathroom, you need a tampon that's up to task. Or in other words: You need a high-absorbency tampon.
These U by Kotex super-plus tampons can absorb a whopping 12 to 15 grams of blood. Considering you lose about 30 to 40 grams of blood on an average period, these little guys should be able to handle even your heaviest days.
---
For when you don't want a tampon
Intimina Lily Cup Compact
Public beach and pool bathrooms aren't usually the cleanest places, and spotting a wet tampon string sticking out of your swimsuit isn't the best. If you want another non-tampon option, a menstrual cup may be your best bet.
There are loads of options, but this compact, collapsible version from Intimina is great for keeping in a beach or pool bag because it's so small and transportable—it even comes with its own little case! Plus, it carries the benefit of being waste-free. Do your vagina and the earth a little good.