9 Cute Summer 2020 Bag Trends — Best Bag Trends for Summer 2020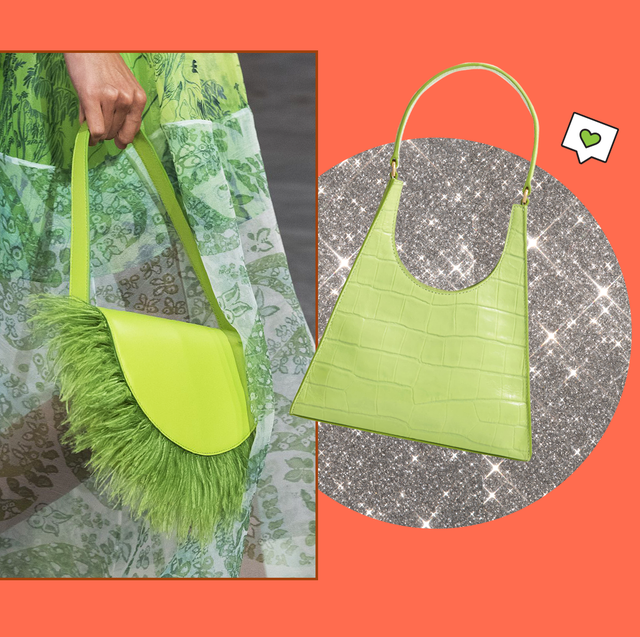 Abby SilvermanImaxtree
Summer is a little more than two months away (it technically starts June 20, fyi), and hopefully we'll all be able to go outside by then. But keeping yourself and others safe by staying inside is definitely the most important thing right now! And I've been passing the time at home today by rounding up these gorgeous summer 2020 bag trends for you—you're welcome. On the spring/summer runways there was every kind of purse, from structured wicker ones to slouchy shoulder ones, and now that the season is almost upon us, more of these pretty styles are available to shop. Here, 9 summer 2020 bag trends you should get in on while there's still time.
And if you're in the market to look at more ~fashun~, we've got you covered there too! Click here for spring 2020 bag trends, cute reusable grocery bags, and summer 2020 shoe trends.
Advertisement – Continue Reading Below
1
Tie-Dye
Not really shocking at this point, but the trend is still kicking from last summer, so it's high time to incorporate it into your purses.
Alberta Ferretti
REBECCA MINKOFF
nordstrom.com
$96.00
Opt for a deep blue tie-dye that evokes light shimmering off the ocean. 
3
Tie-Dye
Hanna Tote Bag in Pink Roos Tie Dye
FAITHFULL THE BRAND
revolve.com
$119.00
A cute pink satchel with this pattern will def stand out. 
4
Tie-Dye
Claire Nylon Tote
Loeffler Randall
shopbop.com
$125.00
Totes can be simple, but NOT this guy. With the colors (and the cute lil ruffle at the top!) it's anything but basic. 
5
Graphic '70s-Inspired Totes
Groovy, baby! Speaking of totes, graphic ones that have a retro vibe are also gonna be big.
Zimmermann
6
Graphic '70s-Inspired Totes
Cotton Canvas Tote
THE NORTH FACE
nordstrom.com
$18.75
The ombre effect of this text is so mesmerizing, right? 
7
Graphic '70s-Inspired Totes
Power To The Parks Tote Bag
Parks Project
urbanoutfitters.com
$32.00
This has all the boho vibes goin' on, and it features an eco-friendly message to protect national parks. 
8
Graphic '70s-Inspired Totes
Cosmic Magma Vintage '70s Inspired Tote Bag
CosmicMagma
etsy.com
$15.54
This Etsy shop has a '70s-looking logo that looks so cool on a tote. 
9
Slime Green
It may be a divisive hue, but there's no denying it's eye catching. Embrace this bold color for summer 2020.
Staud
10
Slime Green
Small Rey Leather Shoulder Bag
STAUD
nordstrom.com
$194.98
This shade on a croc-embossed texture combines two trends in one!
11
Slime Green
Matteo Bag in Snake
This fun top handle will definitely be the focal point of any summer outfit. 
12
Slime Green
Serpent Bag
Susan Alexandra
shopbop.com
$295.00
Susan Alexandra's beaded bags are so stunning, and this one featuring a snake as the handle is pure Insta-bait. 
13
Knotted Handles
Slouchy shoulder bags with knotted straps are everywhere lately. Whether they're tied neatly in a bow or in a general knot, at least you know the strap's secure!
Jonathan Simkhai
14
Knotted Handles
Maude Slouchy Leather Sling Bag
Anthropologie
anthropologie.com
$76.80
Opt for a sling bag in leather if you need a staple summer handbag.  
15
Knotted Handles
Mini Print Hobo
GANNI
nordstrom.com
$115.00
If you're not one for minimal styles, try this bright green floral-printed one from Ganni. 
16
Knotted Handles
Bex Slouchy Tote Bag
Loeffler Randall
anthropologie.com
$128.00
The pleated texture on this tote gives it a lil something extra. 
17
Rainbow Stripes
Multicolored stripes that look like they have a pot of gold sitting at the end of 'em are gonna be huge for summer. They make me so happy just looking at them?!
Gabriela Hearst
18
Rainbow Stripes
The Marley Bucket Bag
Poolside
anthropologie.com
$154.80
Take this bucket bag for a spin and you'll get so many compliments. 
19
Rainbow Stripes
The Transport Tote: Rainbow Stripe Edition
Madewell
madewell.com
$178.00
A simple leather tote is elevated with a colorful rainbow running down the center. 
20
Rainbow Stripes
x Friends With You Regina Print Zip Top Card Case
alice + olivia
shopbop.com
$94.50
It even applies to wallets and wristlets too! Organizing your cards will be so much more satisfying when the slots are in varying shades. 
21
Trapezoid-Shaped Bags
Not quite squares or rectangles! These pretty bags have more of a unique shape that stand out from the rest.
Khaite
22
Trapezoid-Shaped Bags
Super Mini Trapezoid Crossbody Bag
Urban Outfitters
urbanoutfitters.com
$24.00
Go really smol with this mini crossbody in a cool chartreuse hue. 
23
Trapezoid-Shaped Bags
Bateau Tote Bag
Clare V.
shopbop.com
$279.30
Put a spin on a regular ol' tote with one that's woven, striped, and geometrical. 
24
Trapezoid-Shaped Bags
Corinne Clutch in Navy
L'Academie
revolve.com
$158.00
This clutch has a convenient handle and features a stunning teal shade. 
25
Studded Details
Edgy black shoulder bags with silver chains, zippers, and, most importantly, studs were all over the spring/summer '20 runways.
Michael Kors
26
Studded Details
Toff Studded Faux Leather Tote
TOPSHOP
nordstrom.com
$41.25
Proof that totes can be hardcore! This one also has little feet at the bottom for extra protection when you set it down. 
27
Studded Details
Helena Disco Crossbody Bag
Nunoo
urbanoutfitters.com
$143.00
Nunoo's "Helena" bags are tiny but easy to carry around thanks to their versatile double straps. This studded one is both edgy AND cute. 
28
Studded Details
Sloane Studded Tote
Free People
freepeople.com
$158.00
If you're the kind of person who throws everything in a bag before you run out the door. get an oversized style like this. 
29
Leather Top, Wicker Bottom
Wicker is a popular material for bags during summer, but it looks more elevated with a bright leather flap on the top.
Kate Spade
30
Leather Top, Wicker Bottom
Romy Wicker Medium Top Handle Bag
Kate Spade New York
shopbop.com
$214.80
Wicker doesn't always have to be beige you know. This bag features colorful stripes on the material that run horizontally. 
31
Leather Top, Wicker Bottom
Bess Wicker Satchel
Frances Valentine
shopbop.com
$298.00
A summery top handle that'll match all your floral (or polka-dotted!) dresses. 
32
Leather Top, Wicker Bottom
Lennox Wicker Crossbody Bag
Botkier
shopbop.com
$198.00
Opt for one in sunshine yellow to go with the summer theme. 
33
Extra Chain Straps
Whether you actually use them to carry your bag or if they're just purely decorative, chain straps add some shiny bling to any purse.
Dion Lee
34
Extra Chain Straps
Tropic Chain Faux Leather Shoulder Bag
TOPSHOP
nordstrom.com
$36.00
This red snakeskin-patterned one has not one, but TWO silver chain straps. 
35
Extra Chain Straps
'90s Shoulder Bag with Chain
Asos DESIGN
us.asos.com
$24.00
A throwback silhouette looks more modern with a chunky chain hooked to the body. 
36
Extra Chain Straps
Mini Rachel Bag
BY FAR
shopbop.com
$358.00
By Far's handbags are a celeb fave—just ask Kendall Jenner and Bella Hadid. One look at this stunner and you can see why. 
Advertisement – Continue Reading Below