Do I Have to Wash Sex Toys Differently During COVID? Cleaning Sex Toys COVID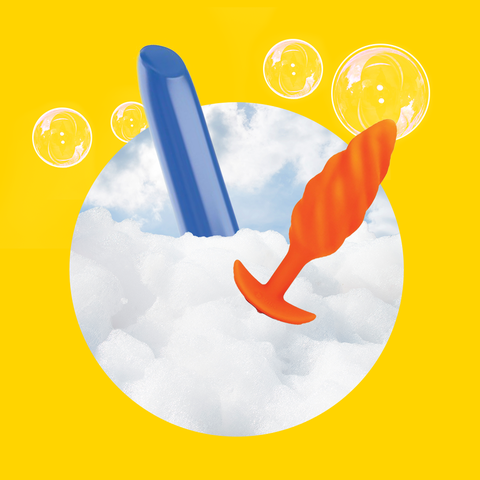 Babeland | b-Vibe | John Francis
With news being hammered in from all directions that you are your own safest sex partner (and rightfully so), it's safe to say we're all adjusting to the new-new of sex toy normalcy as we sub in our trusty Rabbits for whatever new boyfriend-of-the-week we'd be halfheartedly seeing if we were allowed out. Or maybs that's just me? Since being a good sex toy owner also means regularly washing your toys so you don't get an infection, here's a gentle reminder that if you're not already washing your sex toys regularly, you should.
This content is imported from embed-name. You may be able to find the same content in another format, or you may be able to find more information, at their web site.
But are there any new precautions we have to take when cleaning sex toys? I mean, pre-March 2020, no one was Clorox-wiping their junk mail, and that's normal now. Are there any new rules when it comes to stuff that goes inside you?
Thankfully no, there's no difference in how you should clean your sex toys pre-COVID and now. "The rules are generally the same as pre-COVID and you will want to adhere to best practices to avoid the spread of germs and infection," explains Dr. Nesochi Okeke-Igbokwe, a NYC based physician.
Of course, while we should all be cleaning our toys regularly…if you're not as diligent about doing so, here's an extra reminder that you gotta do it. Especially, especially if you're using the toys with a partner and or engaging in any anal play at all (as feces can contain the virus).
Plus, keep in mind that right now is not the time to have to pepper your calendar up with a slew of diagnostic gyno appointments because you think you have a UTI or yeast infection or other bacterial infection that otherwise could've been avoided with proper toy hygiene. By all means, go to the doctor if you feel you need something checked out, but who wouldn't wanna avoid a case of the Monistat blues if it can be helped?
A Refresher on How to Clean Your Sex Toys
When buying sex toys, it's always good to look for non-porous materials like glass and steel when it comes to butt play, as these objects can be boiled to be sterilized, and the hard surface makes it less icky to clean as opposed to the nooks and crannies in a softer toy.
When it comes to non-boil-able toys (or if you just don't want to literally watch water boil after an exhausting solo session), the very basics of soap and water to clean toys will work here, Dr. Igbokwe says.
Clean your toys both before and after each use (because ugh @ that pile of mysterious nightstand drawer dust that you can never seem to vacuum clean). And remember, "ensure good hand hygiene by washing your hands before and after using the toy," Dr. Igbokwe says. If you're not already on the my-only-hobby-is-washing-my-hands-train, here's an amazing place to get into it.
Stuff That Can Help You Make Sex Toy Cleaning Even Easier
For the real germ-freaks of us out there (hi hello, see you all at the meeting on Zoom at 6 PM), I recommend a UV-C sanitizer. The light in these devices kills 99% of bacteria, meaning you can rest assured you have truly zapped all the germs away.
These babies don't actually wash any lube or bodily fluids away, so you'll have to do that before, but if you're truly on another level of neuroticism like moi, that own't stop you from buying a bunch (I have three of these types of devices, and that was pre-COVID).
---
Want to get the hottest sex positions, the wildest confessions, and the steamiest secrets right to your inbox? Sign up for our sex newsletter ASAP.
This content is created and maintained by a third party, and imported onto this page to help users provide their email addresses. You may be able to find more information about this and similar content at piano.io
This commenting section is created and maintained by a third party, and imported onto this page. You may be able to find more information on their web site.