Easy Sunless Tan for Face and Body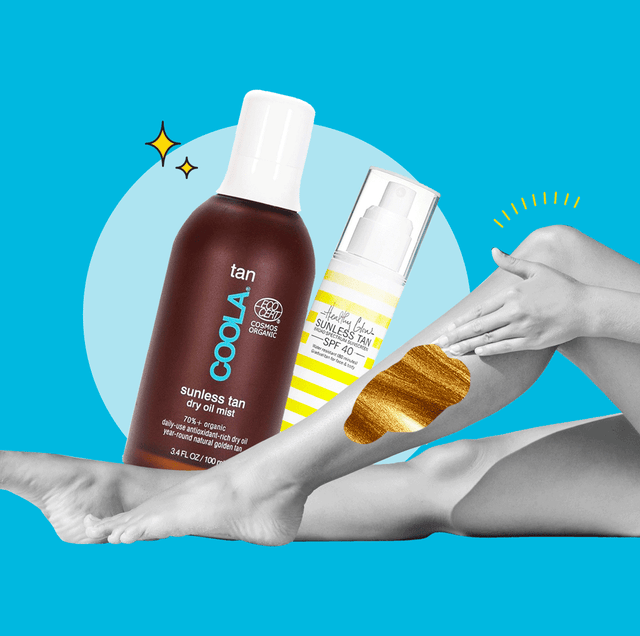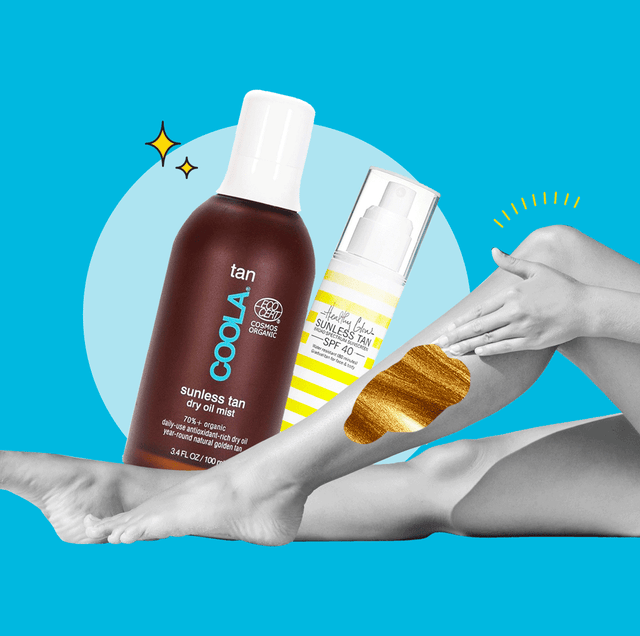 Khadija Horton
Self-tanning is one of two things: fucking incredible or next-level terrible. Nope, there's no in-between, because as anyone who regularly uses self-tanner knows well, the wrong formula and technique can lead to a hot and streaky mess real quick. That's why it's so important to go into the process with (1) lots of patience and (2) the right equipment. And while I can't help you with the former (…might I suggest a little pre-tanning meditation?), I've definitely got you on the latter. Ahead, I rounded up the 17 very best self-tanners that help you get an even, streak-free glow without even leaving your apartment. But first, a few ground rules:
How to prep for self-tanner
First thing's first: Before you apply any self-tanner, you need to make sure your skin is clean and exfoliated (unless, you know, you want a splotchy-looking tan). Massage your wet skin with a gentle body scrub from head to toe while in the shower, pat your skin dry, and dab a lightweight, oil-free lotion on your hands, heels, elbows, and knees—i.e. the areas that self-tanner develops a little too well—to avoid any uneven or dark spots. Don't apply lotion (or oil!) anywhere else to your body, or it'll mess with how your tanner absorbs.
How to apply self-tanner
Lemme fill you in on a little secret: Streaks aren't caused by using too much self-tanner—they're actually from using too little. The level of DHA (aka dihydroxyacetone, aka the chemical that reacts with your skin to create a fake tan) is responsible for how dark you'll get, not the amount you slather on. So to get the most even tan possible, use a mitt to fully saturate your skin in broad, upward strokes. And as for those hard-to-reach spots? Either (A) enlist the help of your roommate or (B) slap your tanning mitt on the end of a long exfoliating brush like I, a single person living alone, do. Alright, now you're officially ready for the best self-tanners:
Advertisement – Continue Reading Below
1
Best Self-Tanner Mousse
Australian Glow 1 Hour Express Tan Mousse in Dark
This mousse is pretty much the reason I got into self-tanning. It's insanely easy to apply—thanks to the included mitt—it's spiked with hydrating ingredients like jojoba oil and vitamin E, and it leaves my olive skin looking genuinely tan. The texture is a little sticky while you're waiting for it to dry (I usually give it two to three hours to fully dry), but the color guard rinses right off and leaves behind a natural-looking glow. 
2
Best Self-Tanner Face Mist
St. Tropez Self Tan Purity Bronzing Water Face Mist
Even though the majority of self-tanners can be applied on your body and face, I've never had success (I usually end up looking…dirty?). That's why I love this bronzing face mist so g'damn much—I mist a thin layer underneath my makeup and it develops into a golden, glowy tan in four to eight hours. The best part? It lasts up to three days, so I don't have to worry about daily touchups. 
3
Best Self-Tanner for Sensitive Skin
Avène Moisturizing Self-Tanning Silky Gel
I get it: Most self-tanners are packed with harsh ingredients that can irritate the sh*t out of sensitive skin types. That's where this gradual Avène formula comes into play—it coats your skin with gentle hydrators like spring water and sunflower seed oil, and it slowly builds into a subtle, natural-looking tan with daily use. 
4
Best Self-Tanner Drops
Tanologist Face + Body Drops
If self-tanning mousses and creams feel like too much of a production for you, you'll love the ease of these genius little drops. Just mix two to three drops into a palmful of your daily moisturizer (body, face, or both), massage it into your skin, and wash your hands. You'll be left with a smooth (read: not splotchy) and tan finish.
5
Best Drugstore Self-Tanner
Sol By Jergens Sunless Tanning Deep Water Mousse
Even though the drugstore is loooooaded with self-tanners, it's hard to tell which formulas are actually effective. I'm personally a fan of this mousse from Jergens, which uses natural sugars and coconut water to soften and tan your skin simultaneously. Win win. Did I mention it smells good? Because it smells really good.
6
Best Powder Self-Tanner Makeup
Vita Liberata Trystal Minerals Self Tanning Bronzing Minerals
This self-tanner is pretty much as innovative as it gets: Instead of a mousse, cream, or lotion, you get a loose mineral powder that subtly tans your face for seven days. After applying your moisturizer or foundation, gently sweep the powder along your face and neck for an even, natural-looking bronze that actually sticks around. 
7
Best Self-Tanner with SPF
Supergoop Healthy Glow Sunless Tan SPF 40
The coolest thing about this self-tanner spray from Supergoop is that it's got SPF 40 in the formula. After exfoliating, mist it over your clean skin, blend it with your hands in circular motions, rinse your hands ASAP, and wait for it to dry. The color takes a good two to four hours to develop into a subtle, glowy finish. 
8
Best Self-Tanner Oil
Coola Gradual Tan Dry Body Oil
Love the results of your self-tanner but don't feel like going through the motions in another two days? Spritz on this quick-drying body oil from Coola and the formula works to enhance and prolong your color for another three days. BTW: It's made with a blend of chamomile and bergamot extracts, so it's super soothing, too.
9
Best 1-Hour Self-Tanner
Bondi Sands 1 Hour Express Self Tanning Foam
If you have zero time but still want to step out with a pretty glow, consider this Australian brand your new best friend. You simply shake the bottle, spray the mousse into the palm of your hands—or onto a self-tanning mitt—and evenly apply. Then, set your timer for one hour, catch up on your Netflix queue, and rinse for a streak-free, believable glow.
10
Best Dark and Deep Self-Tanner
St. Tropez Self Tan Extra Dark Bronzing Mousse
Going for the deepest glow possible? This mousse serves it up without leaving streaks thanks to its tinted hue that acts as a guide, allowing you to track where you've already applied it. All you need is patience, eight hours, and a warm shower to reveal your very believable glow.
11
Best Chemical-Free Self-Tanner
Beauty by Earth Self Tanner
This self-tanner contains a natural sugar cane-derived DHA that helps give you a buildable light, medium, or dark glow. The good news: If you've avoided other tanners because you feel they seem too chemical-y, you can rest easy with this one.
12
Best Gradual Self-Tan Lotion
NKD SKN Pre-Shower Gradual Tan Lotion
Made with 100 percent ecocert DHA and hydrating organic marula and argan oils, this self-tanner works as a pre-shower treatment. Here's how: Before you step into the tub, apply it all over, wash the palms of your hands immediately, and then rinse the formula off after 10 minutes for a glow that isn't streaky and doesn't transfer onto your clothes. It's gradual and subtle, so it's perfect for all skin tones and types.
13
Best Self-Tanner Wipes for Acne
Dr. Dennis Gross Alpha Beta Glow Pad Self-Tanner for Face
This little wipe packs a big punch in the glow department. Not only does it have alpha- and beta-hydroxy acids that chemically exfoliate your skin for major glow (and to treat any acne), but it also uses microencapsulated DHA and soy proteins to leave you with a streak-free, natural-looking tan.
14
Best In-Shower Self Tanner
Jergens Natural Glow Wet Skin Moisturizer
Not only does this gradual glow leave you with a non-streaky, believable tan, it also skips out on that harsh scent you usually find in self-tanners. Since the prime time for your skin to absorb a product is when it's damp (think of a dry sponge's absorbability versus a wet sponge's), this self-tanner's technology activates when it comes into contact with the proteins on your wet skin. The result? A natural-looking glow after three to five in-shower applications.
15
Best Self-Tanner for Face and Body
Roxanne Rizzo Bronze Glow Bronzing Mist for Face & Body
This self-tanner offers up a lightweight mist that won't oversaturate your skin, especially around your hands, knuckles, knees, and ankles. Plus, you won't have to worry about your face looking orange—you can spray it directly onto your face and gently buff it out with a makeup sponge or mitt. 
16
Best Wash-Off Body Bronzer
James Read Wash-Off Tan for Body
No time to apply gradual self-tanner? Smooth on a temporary faux-glow formula over exposed arms and legs before slipping on your clothing. This self-tanner is non-transferrable, so it won't leave marks on your collar—plus, it comes off easily with soap and water at the end of the day.
17
Best Vegan Self-Tanner
Tarte Brazilliance Plus + Self-Tanner with Mitt
You won't find one streak on your body when you use this faux-glow formula, thanks to the mitt it comes with. Its smooth surface helps you apply the product evenly every time—and, the best part, your hands stay totally clean. 
Advertisement – Continue Reading Below