Fancy Kiki de Montparnasse Bondage Jewelry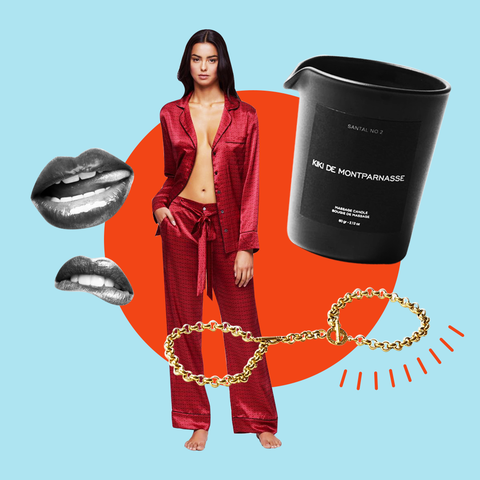 Kiki de Montparnasse | Khadija Horton
Fahncy lingerie company Kiki de Montparnasse (she of bougie $575 silk corsets ripe for my LARPing dreams) recently forayed into sex toys and sexcessories with their new "Pleasure" collection. And you're not gonna hear me shut up about their bondage jewelry for the rest of my life now because I'm p. impressed.
Essentially, their bondage jewelry looks like your old school Italian rolo chain, but can be secretly converted into BDSM style-restraints.
It's so obvious once you see it, that I'm now thinking of every chunky Tiffany's necklace I've ever seen, and wondering how no one thought of this before?
The jewelry line has three pieces: A necklace (that converts to a collar), a bracelet set (that converts into cuffs), and a collar and lead set. When you wear the stuff out on the street, you can simply double up the loops and have a regs necklace or double-strand bracelet, but then, when you wanna hit the sheets, you suddenly have…cuffs? BRB, questioning my spatial reasoning for never having seen this with other jewelry in my life.
Personally, I'm into this new take on bondage jewelry, as I've seen enough iterations of leather cuffs to last me into the next lifetime.
It's not cheap, though. The collar will set you back $325, cuffs cost $250, and the collar and lead set is a whopping $550. But, I guess you're buying the ~brand~ name luxury of Kiki de Mont with it, so it makes sense.
Other sex toys from the Kiki line include:
I have sniffed and can vouch that they smell expensive AF.
…a v. flexible, low profile, clitoral vibe
The lower the profile, the easier to use between bodies during partnered sex.
…and a HEFTY stainless steel dual-ended dildo
Seriously, this thing is HEAVY.
While the collection of toys is cute, it's still a pretty smol selection of offerings (at least for now). Here's hoping that in the future, Kiki has even more luxe toys and jewelry. I mean, they have $600 silk corsets, so there's gotta be more coming, right?
In the meantime, if you've got the cash flow, why not also stock up on these pervy-cute $350 silk pjs patterned with a billion tiny handcuffs?
---
Want to get the hottest sex positions, the wildest confessions, and the steamiest secrets right to your inbox? Sign up for our sex newsletter ASAP.