Great Gifts for Witches – Presents Your Witchy Friends Will Love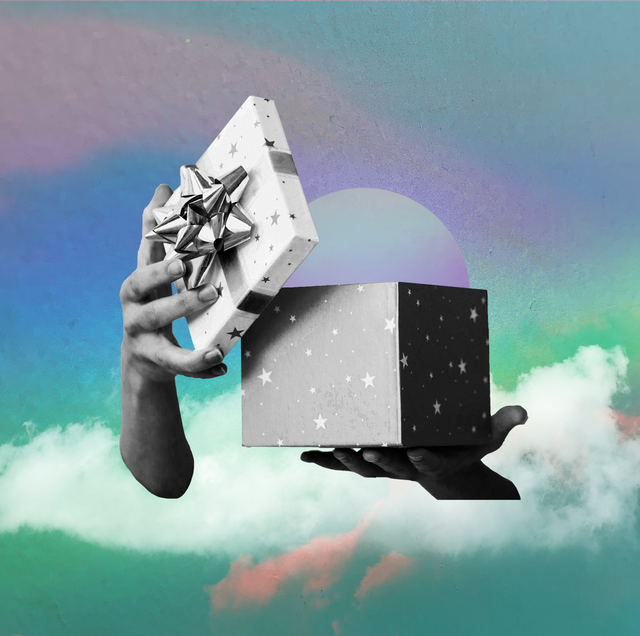 Getty/Sanchi Oberoi
Whether your friend really, really loves The Chilling Adventures of Sabrina, is obsessed with witchtok, or is legit a practicing witch, they'll love a present that fits their actual interests. Say goodbye to socks, lip gloss, and candles, and hello to crystals, tarot cards, and, um, candles. (They're v important for spellwork, OK???)
You want your witchy friend on your good side. After all, you never know when you'll want to ask them for a little help casting a love spell or a money spell. Don't make fun of their interest in the occult—they probably already have people doing that. Instead, show that you support them, even if you don't totally understand why they carry around so many crystals. (Yes, they're pretty, but they're heavy, too!)
There are many different witchcraft traditions out there, so it's a good idea to begin by asking your friend a bit more about their practice. They might be taking inspiration from a few different traditions, or they could still be researching their options and figuring it out—and that's totally okay! But if you know they follow a particular practice, don't buy them sh*t they can't use. If you're unsure if your friend would appreciate a certain spell kit, you can always ask—you can't exactly surprise witches, after all.
Odds are that your witchy friend already has a favorite tarot deck or owns a few crystals, but you can never have too many of either! So if you're looking for present ideas for your witchiest friend, we've got some ideas:
Advertisement – Continue Reading Below
1
A Witch Kit
Baby Witch Kit
If your friend is new to witchcraft, this kit will get them started with the necessities.
2
A Witchy Tarot Deck
Modern Witch Tarot Deck
This gorgeously illustrated tarot deck takes the Rider-Waite-Smith deck and makes it a little more witchy.
3
Amethyst Earrings
Crystal Earrings
Back2EarthCrystalz
etsy.com
$15.00
Amethyst is a powerful protection stone, and what better way for your friend to carry it around than as part of a pair of cute earrings?
4
A Singing Bowl
Silver and Copper Singing Bowl Set
SankofaLiving
etsy.com
$55.00
This beautiful singing bowl's sounds rid any space of bad energy.
5
A Ritual Bath Soak
Beauty Ritual Bath
This ritual bath soak takes self-care to a whole new, magical level.
6
A Witchy Book
Inner Witch: A Modern Guide to the Ancient Craft
Gabriela Herstik's witchcraft guide is perfect for any bb witch. 
7
A Crystal Heart
Anatomical Heart
LittleCrystalGalaxy
etsy.com
$50.00
These anatomical crystal hearts are designed to encourage healing and love.
8
Spell Candles
Multi-Color 5″ Chime Spell Candles
CreatrixThings
etsy.com
$0.40
Replenish your witch's supply of ritual candles by getting her a few in every color—or just her favorites.
9
Moon Phase Pin
Moon Witch Lunar Phases Enamel Pin
WishcraftGoods
etsy.com
$11.99
Many witches work with the phases of the Moon, so help your friend show her love for this luminous entity.  
WoodrustStore
etsy.com
$22.00
Level-up your friend's crystal/tarot card/herb storage with a cute box.
11
An Agate Point
Agate Polished Points
Back2EarthCrystalz
etsy.com
$45.00
These agate crystal points get rid of negative vibes—and also look cool.
12
A Magic Keychain
Money Bag Orgone Keychain
TheZenCompany
etsy.com
$18.74
This cute lil keychain contains wealth-attracting crystals to bring your friend some cash—the gift that keeps on giving!
13
A Meditation Spray
UO Elements Meditation Body Spray
Urban Outfitters
urbanoutfitters.com
$10.00
This sweet-smelling spray helps get your witchy friend in the mindset to manifest whatever TF she wants.
14
A Palmistry Kit
Tiny Palmistry: Read Your Future!
Help your witch friend learn a new skill with this tiny palmistry kit.
15
A Crystal Charging Kit
Crystal Cleansing & Charging Set
WildMoonCrystals
etsy.com
$30.00
Make crystal charging a breeze with a charging set complete with selenite, palo santo, and an abalone shell.
16
A Spellbook
Protection Spells: Clear Negative Energy, Banish Unhealthy Influences, and Embrace Your Power
Teach your friend a new spell or two with a spellbook.
17
An Atlar Cloth
Altar Cloths
IfaCanElements
etsy.com
$17.60
Spruce up your friend's altar (or help them make their first one) with a new cloth.
18
A Ritual Candle
Orisha Ebo Candle
StoneWickandWand
etsy.com
$15.00
What'd I say about candles???
This content is created and maintained by a third party, and imported onto this page to help users provide their email addresses. You may be able to find more information about this and similar content at piano.io
Advertisement – Continue Reading Below