How to Cut a T Shirt 2020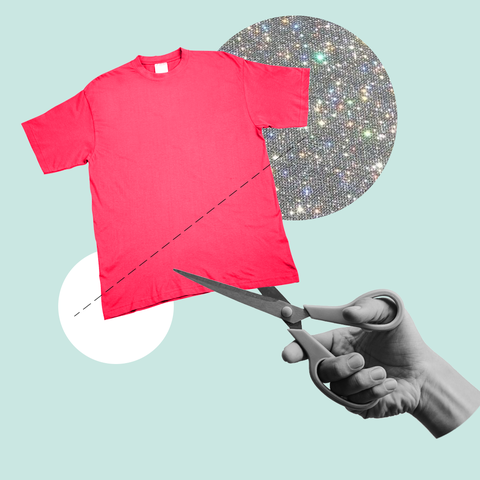 katie buckleitnerGetty Images
We all have those supper baggy T-shirts we only use as pajamas, right? Just me? Or there are ones you might have that are more fitted, but the length is totally off. From past experience, I let these pieces sit in my closet unworn (except for the aforementioned PJ part) because I was too lazy to take them to a tailor—and also too scared to take a pair of scissors and fix the problem with my own hands. But no longer!
This content is imported from embed-name. You may be able to find the same content in another format, or you may be able to find more information, at their web site.
I got some cool secondhand shirts (thanks, Goodfair!) to test out my cutting skills before using them on my actual clothes, and I gotta say, I think the results turned out pretty okay? And dare I say cute? Cut-up graphic tees are perfect for the last couple weeks of summer, and you can even wear them into fall with the right layering. I tested out five different styles: a V-neck cut, a one-shoulder cut, a cropped cut, a sleeveless cut, and an overall distressed cut for some variety, but you can also go rogue with the scissors to create any other styles that speak to you.
While it's worth noting that if your top is slightly long, you can always tie your T-shirt in different knots, sometimes you just wanna go all in and start chopping fabric off, so you've come to the right place. First thing you'll need is a pair of sharp scissors—ones for fabric specifically are the best, but as long as they're sharp, they'll do the trick. (I used a pair of hair-cutting scissors from Lunata, fyi.) A pen or washable chalk also comes on handy to make marks on your clothing, or honestly, you can mostly eyeball it like I did. Not the end of the world! Keep scrolling for 5 different ways to cut your T-shirt…or to make fun of my mediocre DIY abilities, it's okay.
The V-Neck Cut
Apparently, this is the way the ~cool~ kids do a V-neck now. For this style, you'll leave the trim on the collar and start making your cuts underneath so it gives that choker effect. You can always opt to make the cuts wider or deeper depending on how ~low~ you want to go.
Turn shirt inside out and lay on a flat surface. Make sure the front is facing up.
Take a pen to mark the middle of the collar or eyeball it, and make a horizontal cut right underneath.
Keep cutting until you get to your desired width and everything's symmetrical, then cut vertically down.
Next, cut diagonally from the ends of the horizontal cuts to the bottom of the vertical line. If you did everything right, you should end up with a little triangle under your crew collar.
Now, flip the shirt around again so you can see where it hits. Feel free to widen or deepen the hole to your preference.
Stretch out the sides you cut so the fabric smoothes out.
The Cropped Cut
This is a classic and such an easy fix for pretty much any T-shirt you need to shorten, either by a little or a LOT. You can make it as cropped as you want!
Lay shirt on a flat surface and smooth it out completely.
Measure out where you want it the new hem to hit. I tried this shirt on beforehand, so I knew I wanted to cut it a couple inches underneath the graphic.
Take a measuring tape and use a pen to mark on each side so you know you're cutting it straight.
Start cutting on one side and make sure you're in line with your other mark.
Once cut off, stretch out the new hem with your fingers to give it a more worn-in effect.
Optional: If your sleeves are bulky too, consider cutting off the trim on them as well to slightly shorten them.
The One-Shoulder Cut
A simple cut that gives any shirt more edge with an asymmetrical look. If you want it to be even, just repeat the steps on the other side for a cold-shoulder style. It's really that simple.
Turn your shirt inside out with the front facing up and lay on a flat surface.
Pick one side, then start a vertical cut parallel to the collar through both the front and back fabric.
Continue about two inches around the collar, then cut diagonally to the corner of the sleeve, forming a triangle.
Flip the one shoulder over to the back, and there will be one uncut piece by the collar. Trim this part following the curve of your previous cut up to where the collar begins and then snip it off in a triangle shape.
Stretch out the fabric so it looks more worn-in.
Optional: Repeat these steps on the other side for a cold-shoulder look.
The Sleeveless Cut
The same method as the cropped cut, but sans sleeves. (Pretty self-explanatory, but you never know.) You can also wear a cute bralette underneath if the sleeveless area dips down a little lower on each side.
Lay shirt on a flat surface and smooth out completely.
Cut across where you want the new hem to hit.
Then taking one sleeve, cut horizontally and stop at the shoulder seam.
Following the same seam, cut downwards until you hit the armpit. Flip the sleeve over and continue cutting parallel along the seam until the entire sleeve comes off.
Repeat on the other side.
Stretch out any areas you cut to smooth out the edges.
The Overall Distressed Cut with Cap Sleeves
Okay, so there's kind of a lot going on with this one (and maybe it's not my best work, whatever), but you get the gist—and you can probably do it better yourself. Capped sleeves are easy to create with simple diagonal lines, and then you can get creative and start making cuts at the neckline, sides, and/or the bottom for an extra hole-y look.
Lay shirt on a flat surface.
By the armpit of one sleeve, use your scissors to cut a diagonal line to the right, going through both the front and back of the fabric.
Once the piece comes off, line it up with the sleeve on the other side, so you can make sure they'll be pretty symmetrical. Follow the pattern with your scissors to cap the other sleeve.
To make the generally distressed areas, cut lines—they can be any length—wherever you want these details to appear. After cutting, stretch them out with your fingers to widen them and don't be afraid to really pull. (My cuts turned out more like holes than distressed details, so I think this pulling part was where I made my mistake, tbh.)
Optional: Crop the shirt in the same way described above.
This content is created and maintained by a third party, and imported onto this page to help users provide their email addresses. You may be able to find more information about this and similar content at piano.io