Sagittarius Gift Guide – Astrology Ideas for Shopping for a Sag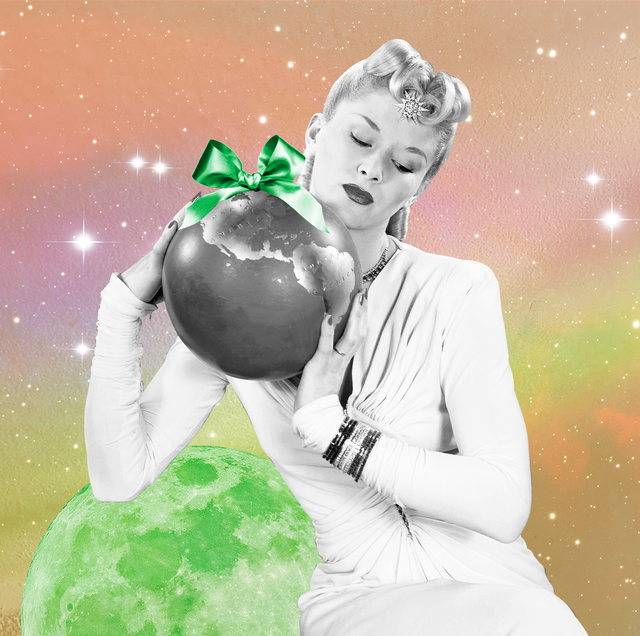 Getty/Khadija Horton
Spare a thought for your Sagittarian friends. These adventurous fire signs are the jet-setters of the zodiac, and they may be taking 2020's stay-at-home vibes harder than anyone. If you know a Sag who's about to have a birthday (November 21-December 21, FYI), they're likely bemoaning the fact that they can't take a hop on a plane for a wild weekend getaway to celebrate like they would any other year.
Still, Sagittarians are notoriously optimistic—they're ruled by Jupiter, after all—and they can "travel" from inside their own homes by watching movies, reading books, cooking delicious dishes, or planning the around-the-world trip they'll take in 2022. If you're giving one a present, give them something that will help them "explore" in some way. They'd also love anything that changes up their usual routine, whether that be a new piece of wall art to spruce up their living room or a new lipstick for a new look.
Other things you need to know about Sagittarians: They're spontaneous and always ready to change up their plans. They're honest to a fault and tend to be blunt (hey, the truth hurts!). They're incredibly smart and care about the "big picture"—you could even call them philosophical. They can't stand feeling tied down. They have a hilarious sense of humor. And they hate being bored.
Whether you're buying your Sag friend/S.O./self a bday gift or a just-because treat, here are some presents we know they'll love.
Advertisement – Continue Reading Below
1
A Sagittarius Necklace
Dainty Gold Sagittarius necklace
LaPalomaAccessories
etsy.com
$17.86
Let your Sagittarius friend wear their sign proudly with a cute necklace.
2
A Scratch Map
Scratch Map Deluxe
UncommonGoods
uncommongoods.com
$48.00
Even though your Sagittarius friend can't jet off to Russia right now, they can reminisce about past trips and daydream about future ones. 
3
A Truth-Telling Game
Who's Most Likely To Game
Urban Outfitters
urbanoutfitters.com
$16.00
Sagittarians tell it like it is, and this game helps them do exacdtly that!
4
A Sexy Book
Cosmo's Zodiac Sex: The Hottest Sex Positions for Every Astrological Sign
Hearst Home
amazon.com
$12.99
Variety is sexy, and this book will help your Sag friend discover all kinds of new sex positions to try. 
5
A Passport Holder
Voyage Passport Holder
Anthropologie
anthropologie.com
$28.00
Even if your Sag's passport is sitting in a drawer right now, they'll want to keep it in excellent shape.
6
Sagittarius Nail Polish
Crystal-Infused Zodiac Nail Polish
This nail polish comes in Sag's lucky color and contains citrine crystal.
7
A New Lampshade
Blue Geometric Lampshade
BespokeBinny
etsy.com
$41.99
Make your Sag's home feel like new with an eye-catching lampshade.
8
A Record Player
Victrola Parker Bluetooth Suitcase Record Player
Victrola
urbanoutfitters.com
$70.00
Does your Sag friend need a stay-at-home hobby? Introduce them to record collecting and soon they'll be telling you all about the difference in the sound.
9
A Zodiac Print
Sagittarius Zodiac Sign Art
thepairabirds
etsy.com
$20.00
This colorful print was inspired by Sagittarius traits!
10
Sagittarius Soap
Astrology Soap
uncommongoods.com
A special Sagittarius soap will make taking a shower feel like an adventure.
11
A Suitcase
The Carry-On
Even though they likely won't be taking this suitcase on a plane anytime soon, odds are that your Sagittarius friend has been taking a few road trips lately.
12
A New Lipstick
Stunna Lip Paint in Underdawg
Did you know Sagittarius is associated with the color purple? Give your Sag BFF a plum lipstick to match. 
13
Sagittarius Wall Art
Glow in the Dark Zodiac Art
uncommongoods.com
This glow-in-the-dark zodiac wall art appeals to Sag's playful side.
14
A Polaroid Camera
Polaroid Now Instant Camera
Polaroid
urbanoutfitters.com
$100.00
Your Sag friend is always creating memories, and a camera will help them capture them.
15
A Duffle Bag
Weekend Travel Bag
thetrinigee
etsy.com
$60.00
No matter what they're carrying in it, your Sag friend needs a duffle bag in a beautiful print.
16
A Cookbook
Salt, Fat, Acid, Heat: Mastering the Elements of Good Cooking
Simon & Schuster
bookshop.org
$34.50
Samin Nosrat's Salt Fat Acid Heat will teach your pal how to master a variety of cuisines. They can pair it with the Netflix series to soothe their wanderlust.  
17
An Eyeshadow Palette
Paradise Fallen Eyeshadow Palette
Ace Beaute
beautybay.com
$35.00
'member how I said that Sagittarius' color is purple? 
18
Headphones
House of Marley Exodus Over-Ear Wireless Headphones
House of Marley
amazon.com
$199.99
Whether they're listening to music or a podcast, new headphones will help transport your Sag to a new world.
19
A Portable Phone Charger
Daisy Print Clear Tech Portable Power Bank
Urban Outfitters
urbanoutfitters.com
$24.95
Sag is always on the go, so they need a portable charger to take with them. 
20
A Perfume Oil
La Botica "CASABLANCA" Perfume Oil
La Botica
garmentory.com
$46.00
Your Sag friend will love a new scent inspired by a far-off place.
21
An Oracle Deck
The Truth Decks – 2nd Edition
Help your Sagittarius tune into their intuitive side with an oracle deck.
22
A Water Bottle
Wild Flower 20 Oz Stainless Steel Water Bottle
joss
jossandmain.com
$36.00
Your Sag needs to stay hydrated during their next hiking/geocaching/boating adventure.
23
Highlighting Palette
Beauty Bakerie Milk & Honey Highlighting Palette
Beauty Bakerie
ulta.com
$38.00
A highlighting palette will help your Sagittarius shine like Jupiter.
24
A Birthday Card
Full of Growth Happy Birthday Greeting Card | Happy Birthday Card | Plant Lover Greeting Card | Plant Lady Card | Plant Card | Plant Lover
PaperAnchorCo
etsy.com
$5.00
Tell your Sag friend/partner/family member how much you love 'em in this card.
25
A Cocktail Kit
Blackberry Gin Smash Cocktail Kit
Sagittarius rules the liver, if your pal needs an explanation for their love of cocktails. 
26
A Fanny Pack/Crossbody Sling
Beach Chic Collection Crossbody Sling Bag
No reviews
artdelatuile.com
$22.99
This versatile bag can be worn either around the waist or across the chest.
This content is created and maintained by a third party, and imported onto this page to help users provide their email addresses. You may be able to find more information about this and similar content at piano.io
Advertisement – Continue Reading Below