The 12 Best Leggings You Can Find on Sale Ahead of Memorial Day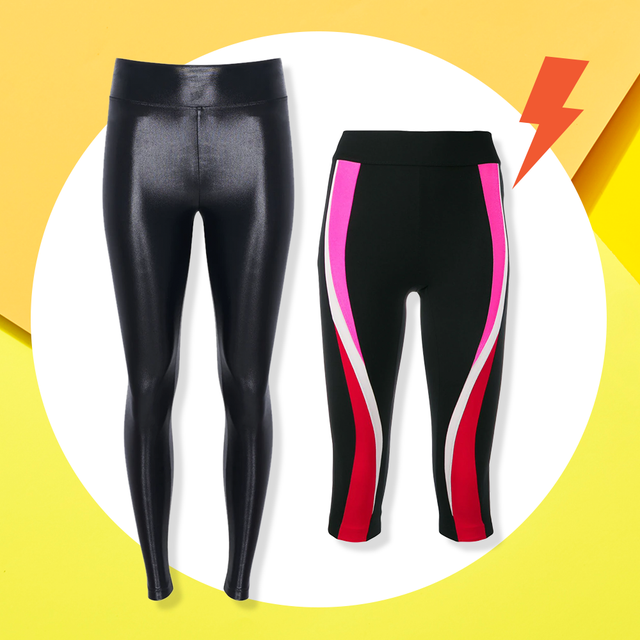 Jewelyn Butron
My realization that all leggings are definitely not created equally occurred during a barre class two years ago, when a pair I'd recently ordered on the cheap ripped right around the crotch area during a glute series, which, might I add, was already challenging enough. The incident was briefly traumatizing, but it catapulted me into becoming vigilant about reading reviews and researching materials for leggings.
What I've learned: With a ludicrous amount of brands to choose from out there, finding the *perfect* pair of leggings can be daunting. Even more, finding a pair worthy of the aforementioned accolade (a pair that supports, flatters, and withstands overwear) on sale can seem next to impossible. Lucky for you, if you're on the prowl for a new pair of leggings, I combed through the depths of the internet to find the best discounted offerings on editor-loved brands—from Outdoor Voices to New Balance to Koral and beyond.
Taking into account user reviews, personal trial and error, and research into the impact different materials can have on flexibility, here are 12 epic legging options for all kinds of workouts currently on sale ahead of Memorial Day weekend. And you can be sure that none of these are see-through, itchy, or even remotely prone to ripping mid–fitness routine.
Advertisement – Continue Reading Below
1
BEST FOR HIGH-SWEAT WORKOUTS
Believe This 2.0 Jacquard Mesh 7/8 Tights
$62
$50 (19 percent off)
Adidas' Believe This tights are renowned for their breathability, but this pair takes things a leap further with its moisture-absorbing mesh design. A godsend for high-sweat workouts, these'll keep you both dry and comfy. They're also made from recycled polyester, which makes them all the more impressive.
2
MOST LIKELY TO SELL OUT
Lustrous High-Waisted Leggings
$80
$40 (50 percent off)
If you follow any fitness influencers on Instagram, you've likely noticed how the liquid legging trend is taking over. [Editor's note for skeptics: They're far more flattering and comfy than you'd expect.] Aptly named, these Lustrous Leggings from Koral rarely can be found for less than $70 and are certain to sell out soon.
3
ECO-FRIENDLY FAVORITE
Girlfriend Collective High-Rise Compressive Legging
Girlfriend Collective
$51.00
$68
$51 (25 percent off)
Launched in 2016, Girlfriend Collective has become a favored eco-friendly label of yogis and barre enthusiasts. Made from recycled water bottles, this coral-colored pair of leggings has a compressive fit that's both lightweight and durable.
4
MOST SLIMMING
Cor Designed by Ultracor Leopard Legging in Apricot
cor designed by ultracor
$72.00
$130
$72 (45 percent off)
Ultracor's leggings are legendary for their silky feeling and built-in shapewear element that flatter every shape and size. Red-hot and leopard-printed, this pair is ideal for days when you are feeling yourself or need the extra push to get there.
5
BEST REFLECTIVE LEGGINGS
Reflective Accelerate Tight
$55
$41 (25 percent off)
If you're an avid runner or aspiring jogger, these compression tights are a fail-safe option. Featuring reflective prints on both legs, they'll help keep you visible to cars and cyclists.
6
MOST EPIC SALE
Yogalicious Lux Camo High-Waisted Ankle Leggings
90 Degree By Reflex
$19.97
$99
$20 (77 percent off)
If, for better or for worse, you prefer wearing all black when you work out (fair), these black camo leggings will spruce things up without straying too far outside your comfort zone. Soft, durable and generously discounted, this camo style does also come in forest green and light gray.
7
BEST FOR SCULPTING
Tall Band Balayage Foil Leggings
$110
$77 (30 percent off)
Female-founded activewear brand Terez makes some of the most creative legging patterns I've ever come across. Here, a shiny pair that feels so smooth, it's almost as if they're a second skin. With a lightweight fabric that wicks away sweat, these are an editor favorite for yoga, barre, Pilates, and other sculpting classes.
8
SMART CHOICE FOR EVERYDAY WEAR
Metallic Feel It Women's Leggings
$55
$40 (27 percent off)
Three words: Puma's outlet section. (You're welcome.) We love this purple pair's subtle metallic details, side pocket, and above-heel cutouts that add extra ventilation and style. These have a tighter fit but were designed with flexibility in mind, making them ideal for cardio and yoga.
9
BEST FOR HIKING
7/8 Springs Legging
Outdoor Voices
.com
$68.00
$85
$68 (20 percent off)
If your favorite workouts are ones that bring you close to nature, you're in luck because OV designed these specifically for outdoor use. Per Outdoor Voices, they've also been designed to sculpt and fit like a glove.
10
LUXE ATHLEISURE
Stripe-Detail Cropped Leggings
$180
$108 (40 percent off)
Combining the ease of athleisure with the attitude of streetwear, Italian brand No Ka' Oi makes some of the chicest activewear out there. Falling just below the knee, this pair of leggings is particularly well-suited for runners, cyclists, and active fashionable types in general.
11
BEST POCKET SITUATION
Salutation Stash Pocket II Colorblock 7/8 Tight
$98
$39 (60 percent off)
With a side stash pocket and smooth fabric, these leggings are ideal for yoga and walks. Note that these leggings also come in black and violet and the shape comes in regular, tall, petite, and plus sizes.
12
BEST FOR QUIRKINESS
Nike Sportswear Women's Printed High-Waisted Leggings
$50
$38 (24 percent off)
I've said it before and I'll say it again: Fruit-printed apparel— bananas, especially—just feels right for the strangeness that is 2020. (Case in point: The fury surrounding strawberry-print crocs.) Note that these bright-blue beauties have a tight fit and are made from soft, stretchy fabric.
This content is created and maintained by a third party, and imported onto this page to help users provide their email addresses. You may be able to find more information about this and similar content at piano.io
Advertisement – Continue Reading Below