The Fuzzy Pajama Set Trend Will Turn You Into the Chicest Teddy Bear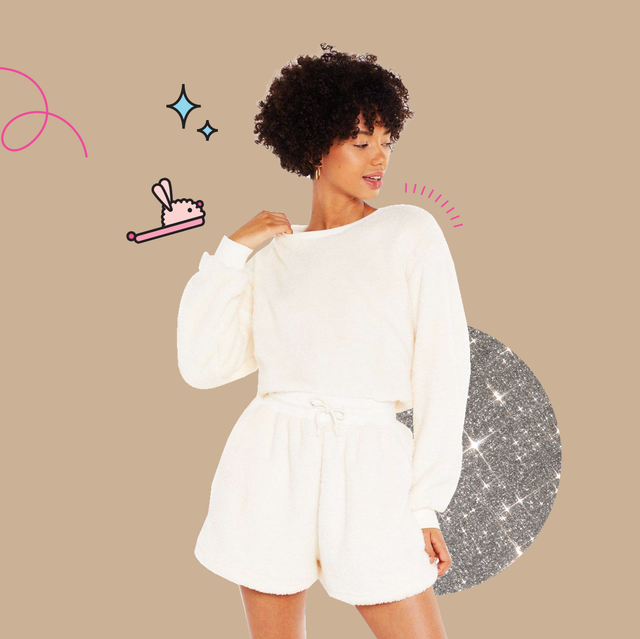 Courtesy
Please, I beg of you!!! Step away from the old raggedy T-shirt you stole from your ex-boyfriend. I know it's really soft, but your pajama game deserves so much more. Trust me on this one. Having a fancy pair of PJs in your closet is the easiest way to live out your best rich-housewife-of-whatever life, no matter how small your studio apartment may be.
Not sure where to start? Grab one of these extremely soft, fuzzy pajamas. They're having a serious moment rn. It's almost impossible for me to scroll through my Instagram timeline without seeing someone pretending they "woke up like this" in the blanket-esque jammies.
I mean, I totally get the obsession. Those fuzzy PJs look so lush and expensive, but you'll find most sets for less than $100, whether you like going to bed in snuggly long pants, a cuddle-worthy top, or a fluffy bralette. If you're lucky, you'll be able to find some in stock below, but hurry, because they are actually selling out so fast.
Advertisement – Continue Reading Below
1
If you live for a good crop top
Creamy Loungewear
Missguided
www.missguided.com
$11.00
Imagine spending the weekend binging your favorite Netflix show while wearing this cropped top and long, flowy pants.
2
If hoodies are your second BFF
Chenille Hoodie
Missguided
www.asos.com
$48.00
A hoodie-slash-cardigan moment is definitely at the peak of sleepwear chicness. Don't forget to grab the matching pants.
3
If you want drawstring shorts
Teddy For Bed Sweater and Shorts Lounge Set
Nasty Gal
nastygal.com
$36.00
As if it wasn't already hard, it'll be even tougher to force yourself to put on "real clothes" (whatever that means, these days) once you spend the night wearing this dreamy two-piece set.
4
If you want a better robe
Aritha Textured Robe
Flora Nikrooz
bloomingdales.com
$38.25
OK, don't even bother putting on any clothes. Just wear this comfy wrap. It's too cute for anyone to make you take it off.
5
If you like dark colors
Cozy Knit Tank
Not into all of the light shades? These black fuzzy pajamas will help you stay true to your aesthetic. 
6
If you live in boy shorts
Supersoft Shortie
Victoria's Secret
www.victoriassecret.com
$15.00
Who knew plush panties were thing. These feel just as good as being naked. Trust me.
7
If you collect bralettes
Eyelash Knit Cami
Missguided
www.missguided.com
$19.00
Show off a lil bit of your arms, legs, and stomach in this high-waisted short and bralette combo.
8
If you want something graphic
Teddy Fur Pyjama Shorts
Skinnydip London
skinnydiplondon.com
£12.00
What's better than cuddle-y pajamas and snacks? Nothing. Absolutely nothing.
9
If you're looking for joggers
Plush Hooded PJ Set
This one kinda looks like a cute gym set, but it's waaaay softer. Maybe you'll feel motivated to do a few reps with the remote control while wearing it.
10
If you want to mix and match
Cozy Fuzzy Knit Shorts
Memoi
nordstromrack.com
$16.97
For those that want to just test out a pair of fuzzy shorts, grab this pair and wear it with your favorite tee.
11
If you live for an all-white look
Teddy Short
Fashionkilla
us.asos.com
$24.00
I'd definitely drip jelly from my morning toast all over this one. But if you're a bit more responsible, go for it.
12
If you like pockets
Teddy Pant Set
This one looks like one of those retro tracksuits, except it has roomy pockets and a hoodie with a cool V-neckline.
13
If you're into astrology
Snow Angel Shorts
Honeydew Intimates
shopbop.com
$21.00
Skip the solids and test out this fun star-spangled set that's just as soft as wittle puppy.
14
If you don't mind a high cut
Bambi Short
House of CB
houseofcb.com
$29.00
This pair of fuzzy shorts is slightly shorter on the sides, so you can show off your gorgeous legs, ~dahling~!
Advertisement – Continue Reading Below