The Most Insane Looks from the MTV VMAs Through the Years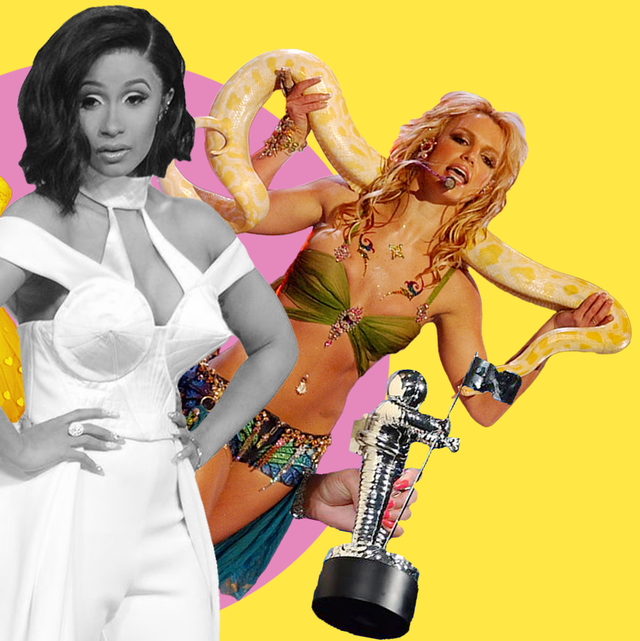 sanchi oberoiGetty Images
Since the MTV VMAs started in 1984, there have been a LOT of show-stopping, iconic, and downright bizarre get-ups that walked the carpet. There are literally no rules at the VMAs and that's why it produces the most memorable outfits of any awards show. Whether they're showing lots of skin or covering it up with pounds of meat, celebs tend to go waaay outside the box for the VMAs. And that's what makes it all the more fun! Here are 50 'fits that could only be described as, well, a LOT. And who knows what jaw-dropping ensemble 2020 will bring?
1 of 50
Madonna's White Dress, 1984
At the first-ever MTV Video Music Awards in 1984, Madonna wore this bridal dress with a "Boy Toy" belt.
2 of 50
Joan Jett's Western Top and Darlene Love's Metallic Dress, 1985
Joan Jett and Darlene Love wore OTT outfits with Western embroidery and metallics in 1985.
3 of 50
Tina Turner's Leather Suit, 1986
Tina Turner wore a black leather jacket, matching skirt, and yellow top while accepting an award at the 1986 VMAs.
4 of 50
Cher's Super Sheer Look, 1987
Cher has worn plenty of black sheer looks, but the one she wore to the 1987 VMAs featured a bedazzled geometric pattern and a puffed tulle bustle right at the back.
5 of 50
Cindy Lauper's Bustier Dress, 1988
Cindy Lauper sparkled in this metallic dress, which featured a silver bra detail and off-the-shoulder straps in 1988.
6 of 50
Christina Applegate's Chic Floral Frock, 1989
Christina Applegate went for a classique look in this floral dress with matching head scarf.
7 of 50
Paula Abdul's Black Chain Getup, 1989
Paula Abdul's look for the 1989 VMAs had fringe maid of black metal chains.
8 of 50
Kim Basinger's Leather Outfit, 1990
Kim Basinger is sporting major Sandy from Grease vibes on the red carpet in 1990. The leather look was verrrry in for the start of the '90s.
9 of 50
MC Hammer's Cutout Blazer, 1990
MC Hammer's metallic pants were already famous by 1990, but his cutout blazer also caught attention at that year's VMAs.
10 of 50
Prince's Red and White Vibes, 1991
Prince wore flared red slacks with a matching lapeled vest with a white button-down to the 1991 awards show.
11 of 50
Cindy Crawford's Black Bondage-Inspired Dress, 1992
Cindy Crawford sizzled in this strappy black gown with a see-through bodice at the 1992 show.
12 of 50
Lenny Kravitz's Spacey Separates, 1993
Lenny Kravitz sported a silver vest and bell-bottoms to the 1993 VMAs.
13 of 50
Sharon Stone's Glamorous Get Up, 1993
Talk about G-L-A-M, honey. Sharon Stone brought some timeless fashion and fun to the awards in 1993.
14 of 50
Sandra Bullock's Miniskirt Moment, 1994
Sandra Bullock wore this two-piece coordinating top and miniskirt look to the 1994 VMAs.
15 of 50
Drew Barrymore's Dark Ensemble, 1995
With a dark lip and bright flowers in her hair, Drew Barrymore is bringing loads of contrast and fashun to the 1995 awards show.
16 of 50
Soffia Coppola's Sheer Nightie, 1995
Even though Soffia Coppola's outfit looks like something you may prefer to wear to bed, she's still rocking the purple dress on the carpet. Bold moves all around.
17 of 50
TLC's Matching White Moment, 1995
The girl group slipped into matching white two-piece outfits for the 1995 show, where they won an award.
18 of 50
Geena Davis's Gold, Backless Dress, 1996
Geena Davis turned heads in this gold dress, which featured a completely backless design.
19 of 50
The Spice Girls' Mismatched Outfits, 1997
Each of the five Spice Girls wore something unique to the 1997 VMAs: Posh wore a black bodycon dress with spiral heels, Baby wore a blue minidress with platform sneakers, Scary wore short shorts with dalmatian-print thigh-high boots and a matching duster blouse, Ginger wore an American-flag bodysuit with coordinating platforms, and Sporty wore a high-necked crop top with white track pants and tennis shoes.
20 of 50
Rose McGowan's Risqué Outfit, 1998
That L.A. heat had nothing on Rose McGowan who was wearing breezy attire to the show in 1998. We've got all sorts of questions with this one.
21 of 50
Jennifer Lopez's Yeehaw Look, 1998
This was more than a decade before Old Town Road dominated the charts, but J.Lo was way ahead of the Western game in this cowboy hat and pantsuit combo at the '98 awards.
22 of 50
Lil' Kim's Purple Power, 1999
Lil' Kim brought the color to the carpet in 1999 with her all purple outfit- straight from her hair, to her lipstick, all the way down to her shoes.
23 of 50
Christina Aguilera's Leopard Cami, 1999
Xtina donned this sheer animal-printed cami with pink lace trim and a matching jacket over a black mini and knee-high boots.
24 of 50
Destiny's Child's Black Leather Rhinestone Looks, 2000
The three-person group matched in leather rhinestone bodices and coordinating bottoms at the 2000 VMAs red carpet.
25 of 50
Britney Spears' Slave 4 U Performance Costume, 2001
Britney Spears performed her single "Slave 4 U" in this scarf-themed outfit, which she later accessorized with a live python, in 2001.
26 of 50
Macy Gray's Fun Frock, 2001
It's just solid promotional material, thats all.
27 of 50
Nicky and Paris Hilton's Coordinating Pink Ensembles, 2002
The socialite sisters matched in pink looks for the 2002 VMAs. Nicky wore a long-sleeved tunic with black thigh-high boots, while Paris slipped into a floral halter top with a napkin-hemmed skirt.
28 of 50
Britney Spears' Madonna-Inspired Outfit, 2003
Britney Spears performed with Madonna that night, so it was only fitting that she wore this white bridal look in 2003, which paid homage to Madonna's 1984 outfit (see slide 1).
29 of 50
Paris Hilton's Super Naked Gown, 2004
Paris Hilton had nothing to hide in this completely sheer embellished dress in 2004.
30 of 50
Lindsay Lohan's Leopard Midi, 2005
Lindsay Lohan went all in on leopard print in this off-the-shoulder midi dress, which she wore in 2005.
Advertisement – Continue Reading Below
This content is created and maintained by a third party, and imported onto this page to help users provide their email addresses. You may be able to find more information about this and similar content at piano.io
This commenting section is created and maintained by a third party, and imported onto this page. You may be able to find more information on their web site.