Theme, Date, Hosts — Everything You Need to Know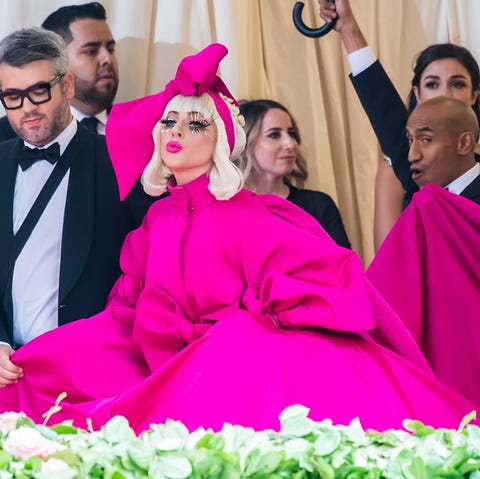 Gilbert CarrasquilloGetty Images
Alright, people, let's get to the point: The 2020 Met Gala—aka the fashionable party put on by the Costume Institute at the Metropolitan Museum of Art every year—is still very much happening despite concerns over the Coronavirus (COVID-19) pandemic.
"We are proceeding as planned and look forward to a wonderful evening," said Nancy Chilton, chief external relations officer of the Costume Institute to The Cut. "We will of course continue to keep a close eye on the situation." While many other large events like Coachella, Stagecoach, and SXSW have either been cancelled or postponed, it seems that for now, the Met Gala is still on.
You may recall that last year, the theme was Camp: Notes on Fashion, which gave us Lady Gaga's iconic wardrobe changes on the red carpet. And the year before, it was Heavenly Bodies: Fashion and the Catholic Imagination, which demonstrated that maybe Rihanna should just be our new pope. This year, it's a bit more abstract with About Time: Fashion and Duration. Want more details? Find out everything you need to know about this year's Met Ball, below.
Okay, so about that theme…why?
According to Andrew Bolton, the Costume Institute's curator, the theme, like I said, is About Time: Fashion and Duration. More from Andrew via the New York Times: "Fashion is indelibly connected to time. It not only reflects and represents the spirit of the times, but it also changes and develops with the times." Ah, yes.
And as that article also points out, there are a lot of other fashion-time issues that are top of mind right now, like: designers hoping for more time to be creative, consumers wishing they could buy a piece right off the runway instead of waiting for it, and, of course, the growing awareness of fashion's impact on the environment and the importance of shopping secondhand, focusing on sustainability, and making what was old new again.
Oh, and did I also mention it's the Met's 150th anniversary in 2020?
Now, on to the inspiration behind it.
According to the NYT, the works of Virginia Woolf and early 20th century French philosopher Henri Bergson have heavily influenced the theme. Bolton is planning on combining objective time (calendar years) with subjective time (moments of creativity).
Serious question: Is everyone going to be dressed as a clock?
Honestly, maybe. But designers could take this theme wherever they want! Theoretically, attendees could wear something timeless and that would embody the theme, or they could do the opposite and lean hard into a specific year.
When is this thing again?
The Met Gala is always the first Monday in May, which will fall on May 4, 2020.
Who's hosting?
The show is chaired by Nicolas Ghesquière, the designer behind Louis Vuitton; Emma Stone; Meryl Streep, who starred in The Hours, a story inspired by Woolf's Mrs. Dalloway; Lin-Manuel Miranda; and, as always, Vogue's Anna Wintour.