This Chinese Lucky Cat Ring Is 50% Off at Swarovski Right Now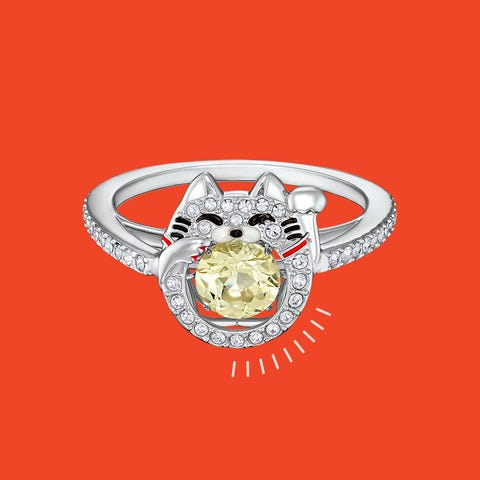 Swarovski | Raydene Salinas Hansen
If you think you could use a bit more luck in your life, like sparkly things, and have $60 burning a hole in your pocket, do I have good news for you!
This content is imported from embed-name. You may be able to find the same content in another format, or you may be able to find more information, at their web site.
There is an adorable Swarovski cat ring on sale for 50% off right now and while it may not guarantee luck and fortune, feel free to use symbol of luck as justification if you need to buy it. The ring is normally $120, but it's on sale for only $60, which is a pretty beefy discount.
I first saw of the ring on the Subtle Asian Traits Facebook group, where I, along with presumably others, have continued thinking about it ever since. One of my best friends bought the ring and noted that not only is it even more delicate and cute than pictured, but the middle jewel in the center actually jiggles, which somehow sells me even more?
For anyone not familiar with the motif or symbolism of the Chinese lucky cat ring, it's actually a Japanese cat named Maneki-neko, but because it's so often seen in Chinese-owned establishments and in Chinese culture, it's also known colloquially as the "Chinese lucky cat." The beckoning paw (it's not waving, though it kinda looks like it) is meant to bring either fortune or customers depending on the placement (hence why it's often seen in Chinese restaurants and shops). Maneki-neko has a coin in the center, and the Swarovski ring has a jiggling yellow gem in the center of the ring as a nod to this coin.
The ring is currently available in three sizes online, and you can use Swarovski's easy-to-use (according to said friend and expert on this specific lucky cat ring) printout to measure your ring size if you're not sure about where you stand. This has been a PSA, but if the ring brings you luck and fortune, I would like to exercise my right to 10% of said fortune for alerting everyone. Happy cat ring jiggling!
This content is created and maintained by a third party, and imported onto this page to help users provide their email addresses. You may be able to find more information about this and similar content at piano.io
This commenting section is created and maintained by a third party, and imported onto this page. You may be able to find more information on their web site.