Vote Merchandise 2020 — Where to Buy Vote T-Shirts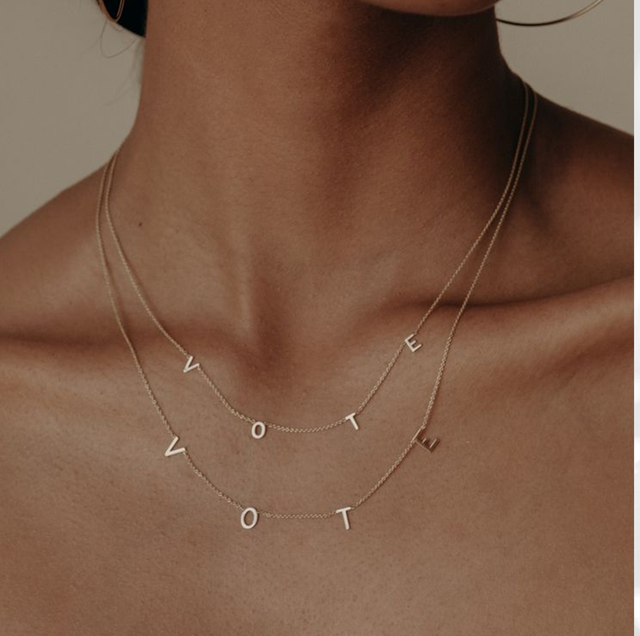 Courtesy
In the words of my girl Beyoncé, we have to vote like our lives depend on it this year. Let me say that again: Our lives depend on it, people. I wish I had one of those bullhorns so I could yell that from the top of a mountain, but I don't. So the next best thing is grabbing a vote T-shirt. At least every single person who walks past me will get the hint. Actually, while I'm thinking about it, I might as well go all out and stock up on a bunch of vote merchandise.
Brother Vellies teamed up with When We All Vote and together they created the cutest pair of tube socks. And did you see Michelle Obama at the DNC? She was wearing a gorgeous ByChari vote necklace. I neeeeeed!! If you too are looking for some ways to spread the word, peep the rest of the vote merchandise goodies I found below. And, this should go without saying at this point, but don't forget to freakin' vote in November.
Advertisement – Continue Reading Below
1
this honest shirt
Blank Perfect Tee Shirt
Posting is great. But if you're really about that life, show up to the polls. Or mail in your ballot early. 
2
this classic necklace
VOTE NECKLACE
Dainty necklaces are always worth the investment. So you'll be proud to pull this one out of the jewelry box every four years.
3
this pair of socks
x When We All Vote Crew Sock
Brother Vellies
brothervellies.com
$35.00
Your favorite white sneakers will be cuter than ever with this pair of socks. Plus $5 of every purchase will go directly to When We All Vote, a non-profit that works to increase voter turn out.
4
this customizable shirt
This Is Our Time T-Shirt
American Eagle
ae.com
$24.95
Here's your chance to really use your voice. Grab a Sharpie and fill in the blank line on this tee. If you're feeling crafty, you can also color in the other letter's and draw pictures. Your call.
5
this over-the-knee boot
THE 5050 VOTE BOOT
Stuart Weitzman
stuartweitzman.com
$695.00
As the temperatures start to drop, let this be the first pair of boots you pull out of your closet. 
6
this French tote
x When We All Vote Canvas Tote
Clare V
clarev.com
$25.00
It doesn't matter what language you say it in, it's an important message that needs to be heard. Plus it looks really chic in French on this tote bag.
7
This beaded bracelet
Vote Beaded Stretch Bracelet
LITTLE WORDS PROJECT
nordstrom.com
$20.00
Slide this adorable bracelet over your wrist to let the world know exactly what you're doing on November 3.
8
this cursive option
I am A Voter, Baby Girl Tee
Also, Freedom
alsofreedom.com
$73.00
I know this handwritten print looks soft and gentle, but its message is strong and impactful. 
9
this rainbow necklace
I Vote Necklace
Baublebar
baublebar.com
$42.00
Add some color to your jewelry collection with a prismatic pendant that says, "Watch out I vote."
10
this artsy shirt
Vote Tee
Chaser
shopbop.com
$62.00
Put your fists in the air and throw on this statement-making tee with your favorite pair of sweatpants.
11
This global tee
Ninety Percent Vote Shirt
Ninety Percent
shopbop.com
$55.00
The next U.S. election could definitely change the world. And this shirt perfectly illustrates that.
12
this inspiring set of masks
x Tokki Face Masks
Gravitas
gravitasnewyork.com
$24.00
Since we all are wearing masks, we might as well make 'em cute. Zoom in on these and you'll see female heroes, like Rosa Parks, Shirley Chisholm, and Eleanor Roosevelt. Oh, and 10 percent of each purchase goes to the National Black Women's Justice Institute.
13
this silver necklace
x I am a voter necklace
Stella and Bow
stellaandbow.com
$65.00
Let them know who you are with a necklace that literally does all the talking.
14
this simple shirt
Vote John Lewis T-Shirt
CulturedKinfolk
etsy.com
$24.99
In memory of the legendary John Lewis, grab this shirt that emphasizes one of his biggest messages.
15
this cool case
Vote iPhone Case
ElizaScottDesign
society6.com
$28.79
For the next couple of months, switch your typical phone case for one that speaks volumes.
16
this direct shirt
Vote Like Your Ancestors Died For It Shirt
MelanatedMinds
etsy.com
$24.99
This one hit me in the gut when I read it because it's true. Grab a few to share with your family members and get them pumped for the polls.
17
this spray paint mask
SPEAK OUT
Quay Australia
quayaustralia.com
$10.00
This mask created by Quay gets right to the point with a cool graffiti look.
18
this double-lined shirt.
Vote Tee
It's so important they wrote it twice on this tee. And there are tiny stripes at the bottom right corner.
This content is created and maintained by a third party, and imported onto this page to help users provide their email addresses. You may be able to find more information about this and similar content at piano.io
Advertisement – Continue Reading Below