Where to Find Magic Spell Candles, Ritual Candles Online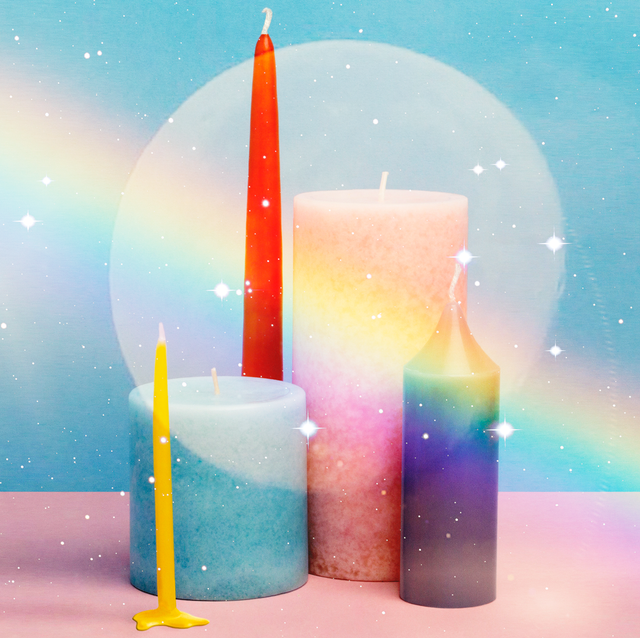 Stocksy/Katie Buckleitner
Everyone needs a candle or twenty! And for witches, brujas, hoodoo practitioners, and the magic-curious, these lil sticks of wax aren't just pretty—they're powerful spellcraft materials.
In the field of candle magic, different colors signify different areas of life—like red for love, sex, and passion, or green for prosperity and money. To work candle magic, choose a candle based on what you want to happen. Then, visualize your goal; "dress" the candle by rubbing it with oil and/or scratching in symbols while focusing on your goal; and finally, light the candle.
If that whole "dressing" thing sounds like a lot of work, you can easily find pre-made candles that are designed to help you attract love or money, protect yourself, or achieve any other magical goal. Creators might use particular essential oils, herbs, colors, or symbols to craft candles aligned with certain goals—they might even bless them or cast a spell in the process. Often, vendors will include suggestions on how you can work with their candles, too.
While candle magic is a type of magic in its own right, other types of spells often incorporate candles. One abundance spell involves lighting a candle, visualizing your financial goals, and then scattering coins somewhere they won't be disturbed (like under your bed) while repeating a spell ("Scatter money on the floor, watch it come through the door"—brb, I have some quarters to throw).
Others might use candles to cleanse their space of bad vibes, or to bring in certain energy during a tarot reading, meditation, or any kind of spiritual practice. Think of it as setting the mood…magically.
Here are some spell candles to get you started on your collection:
Advertisement – Continue Reading Below
1
For $$$
Money Draw Blessed Herbal Candle
soulfulvibesco.com
$18.00
This green candle contains a honeysuckle, patchouli, and grapefruit oil blend to attract abundance, and comes with an affirmation you can repeat to bring in cash.
2
To bring in love
Honey Pot Attraction + Loyalty Candle
LalusRootsNConjure
etsy.com
$12.99
Attract love and loyalty with this Oshun-inspired intention candle. 
3
To celebrate autumn
Harvest Blessing Abundance Seasonal Spell Candle
TheMadamePhoenix
etsy.com
$40.99
It's fall, and this candle was created to celebrate the harvest season. Like a pumpkin spice candle, but magic! 
4
To cleanse your space
House Blessing Magic Candle
houseofintuitionla.com
$18.00
This candle is programmed with intentions in order to call in blessings and rid your space of unwanted energy.
5
For your Full Moon rituals
Full Moon Candle
Paradigmbysg
etsy.com
$15.00
Full Moons are a powerful symbol of completion, and this candle helps you use that Full Moon energy to let sh*t go that's no longer working.
6
To get rid of bad vibes
DAMN GOOD VIBES Manifestation/Intention Candle
SkinRitualsShop
etsy.com
$22.00
Created to get rid of whatever's holding you down, this candle contains crystals, herbs, and scents specifically chosen for their cleansing and protective powers.
7
To bring out your psychic side
3rd Eye Candle
JustKweenin
etsy.com
$29.99
Want to boost your intuition and tap into your psychic side? This candle'll do the trick. 
8
For self-love
Bloom Intention Candle
blue-sageboutique.com
$33.00
Scented with rose, lavender, vanilla & geranium and containing rose quartz, this candle promotes self-love and comes with an affirmation you can repeat.
9
To find a job
Job Fixed Candle
Job searching? This candle can help you manifest one.
10
To honor the dead
Flowers For The Dead Skull Candle
WaterBruja
etsy.com
$22.00
Throughout cultures, many people light candles to honor the dead. These ones are intended to help you reflect on good memories of a loved one who's passed away.
11
To DIY your own spells
Colored Candles
NaturesTreasuresGB
etsy.com
$5.52
Want to try "dressing" your own spell candles? Just choose a selection in the colors you're interested in using and go for it!
This content is created and maintained by a third party, and imported onto this page to help users provide their email addresses. You may be able to find more information about this and similar content at piano.io
Advertisement – Continue Reading Below