Formidable Forms integration for wpDataTables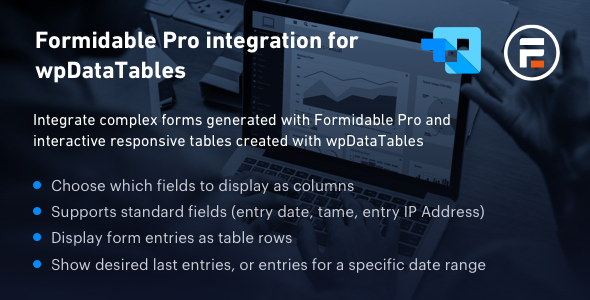 This addon integrates the wpDataTables, a best-selling powerful table generator tool for wordpress, and Formidable Forms – one of the most popular WordPress form builders.
Upon activating, you will have one more data source available for creating your wpDataTables – "Formidable Form".
All the form fields will be treated as table columns, and the entries will be displayed in rows.
Please note that you must have one or more entries for a form to be able to generate a table based on it.
See the documentation and tutorial on using the addon on this link.
Features:
Define which fields will be shown as columns – the table creation wizard will show all the form fields, it's up to you to choose which ones to show in your table.
Display entry metadata – see in a table all the entry's additional information – entry date and time, user, user's IP address
Configure the output – you can choose whether you want to display all records, only last XX records, or, for example, only the records for last 2 weeks – it's fully configurable
Use all of wpDataTables power – once you create the table you can work with it as with all wpDataTables – make it responsive, add formula columns, render charts, etc.
Please note:
This addon is implemented by wpDataTables' authors, TMS-Plugins. If you need help with it, please use our support site – https://tmsplugins.ticksy.com/ – Formidable Forms authors will not be able to provide support for this addon.
For using this add-on you need to have FULL versions of wpDataTables and Formidable Forms installed on your website!
Changelog
Version 1.0.4 – released 19.03.2020
BugFix: Fixed issue with the license deactivation.
Other small bug fixes and stability improvements.
Version 1.0.3 – released 28.11.2019
A minor update with a couple of small bugfixes
BugFix: Addon is now compatible with jQuery 3.x.
BugFix: Fixed PHP notice for update of addon
Compatibility with WordPress 5.3 confirmed.
Small bug fixes and stability improvements.
Version 1.0.2 – released 15.04.2019
Feature: New auto-update and plugin activation system. Make sure to re-acivate your purchase once again to make it work.
Small bug fixes and stability improvements.
Version 1.0.1 – released 12.12.2018
Small bug fixes and stability improvements.
Compatibility with WordPress 5.0 confirmed.
Version 1.0 – released 02.09.2017